David's Restaurant Review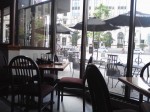 I read reviews and saw some very good, and some very bad, reviews for a place called David's Restaurant. This always makes me nervous, as I usually trust in rave reviews and wind up extremely disappointed. I'm happy to say, David's was far more than I ever expected.
The Service
While dinner service begins at 5 p.m., we arrived 30 minutes early, because we'd been walking all day in hot weather. The hostess graciously seated us, but she did explain that we'd have to wait until 5 p.m. to order dinner. In the meantime, they had reasonably priced Happy Hour specials.
The kitchen staff really know what they're doing. Our table overlooked the open kitchen, and we were able to watch the chef and sous chef every step of the way. Pans were spotless and hanging in a very organized fashion from ceiling hooks. They cleaned consistently as they went, and they moved fluidly around each other seemingly having the time of their lives. There was none of the yelling and anger I've seen in other busy kitchens. It seems trivial, but this made the dinner even more enjoyable.
Our waitress served us efficiently and didn't hover, a habit that I loathe. She kept away while we were eating and only came over to see if we needed anything a few times during our meal. I appreciate that.
The Food
We took advantage of the Happy Hour specials. Maine microbrews were as little as $3 a pint, sweet potato fries with garlic aioli was $3, and fried calamari for $5. Happily, the sampling of appetizers proved we were about to experience the meal of all meals. The sweet potato fries were light and crispy with the sweet taste of roasted garlic infused adding a little zip. The calamari was crispy, again light and not oily, and tossed with hot peppers for a little kick.
Dinner is truly magic at David's. Start with a basket of fresh bread and flaky garlic knots that come with a bowl of warmed olive oil that's seasoned with garlic and fresh Parmesan. Careful eating the bread because it fills you up.
The Lobster Dinner is the best choice on the menu. For $30, you're treated to a three-course meal that leaves you feeling stuffed.
The first course is a bowl of New England Clam Chowder paired with a shrimp cocktail that is nothing like the shrimp cocktail most people know. The clam chowder is full of flavor, seasoned with a hint of brown sugar and thyme. I'm honestly not sure that the brown sugar is necessary as clams have a natural sweetness.
The shrimp cocktail on the other hand is something I'll never forget. This is not the a-typical cold shrimp paired with a thick pasty mix of ketchup and horseradish; it's simply amazing. Cajun grilled shrimp are paired with a small dollop of tangy Cajun sauce that was a blend of tomato, honey, and what tasted to be a small amount of cayenne pepper.
After this, you get a 1.5-pound steamed Maine lobster with melted butter, garlic mashed potatoes, and the vegetable of the day. In our case, the chef stuffed fresh snow peas into slices of zucchini that steamed without becoming soggy.
There is far more to David's menu than lobster, though it's hard to pass up such an affordable three-course meal. Other options include steaks, pasta dishes, vegetarian fare, pizzas, and burgers. Entree prices range from $12 to $30.
Though we felt stuffed after our meal, we couldn't leave without sampling desserts. I highly recommend the Smoosh-in. This is the ideal choice for the chocoholic. It's a decadent mix of brownie ice cream, Kahlua, and Bailey's Irish Cream turned into a sundae that delivers a burst of dark chocolate and alcohol into every bite, and is topped with a gigantic chocolate filigree. At $7.25 it wasn't cheap, but it certain was worth every calorie.
The Details
David's offers both indoor and outdoor seating overlooking Monument Square. The restaurant is busy, so reservations are recommended. They even offer online reservations for your convenience.
www.davidsrestaurant.com
(207) 773-4340
Lunch: Monday to Friday 11:30 a.m. to 4 p.m.
Dinner: Sunday to Thursday, 5 p.m. to 9 p.m.
Friday and Saturday, 5 p.m. to 10 p.m.