Inn By The Sea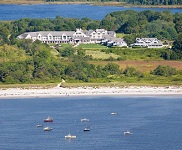 With all the magnificent things to do and see in Portland, Maine, you are sure to need a luxurious place to sleep. The Inn by the Sea is located just fifteen minutes from the vivacious city of Portland, Maine with an entire acre of white sandy beaches and sparkling aqua blue waters. Voted as the world's best hotel in 2011, by the Travel Magazine, the Inn by the sea offers you a luxurious stay of spacious quest rooms, elegant suites, or cozy fully furniture cottages making it the perfect attraction in all of Maine. Whether for couples or the whole family, this is the resort to stay at.
When you stay at this world class resort, you will be offered an array of fine dining. Enjoy the panoramic views of the crescent shaped white sandy beaches from the intimate dining room of the Sea Glass restaurant or relish in the most magnificent cocktails and signature wine list. Chef Mitchell Kaldrovich gives you anything your taste buds should crave as you wine and dine in the most elegant Glass restaurant in Maine.
Surround yourself with beauty and luxury as you have the most relaxing experience at the Spa at Inn by the Sea. As the waves crash onto the shore and the wind rustles over your silk body, the spa offers you a scenic beach view and a full range of body treatments, massages, and aesthetics. Unwind during your travels and allow the luxury to come naturally at the Inn by the Sea.
As luxury is top priority in this fabulous resort, you will encounter luxury in all fifty-seven guest rooms, suites, as well as cottages. Pampering you with comfort in a relaxing array of dark red and dark gray furnishings adorned in fine art and sophisticated décor, the Inn by the Sea is a truly tranquil experience for all who go for a stay.
Of course comfort and luxury is the most important, but what about entertainment? Well, the Inn by the Sea even takes care of that. With various summer activities such as:
Jazz on the Lawn
Summer Activities
Children's Story Telling
Garden Dinner Parties
Bug's Life Tour
Beach Ecology Walk
Adult Yoga
Guitar by the Fire
Dinner Parties
Children's Art
Child Yoga
There is a little something to do for everyone whether you're a kid or an adult, your time at the Inn by the Sea is never a dull moment. Pick something for every day of the week, and have a luxurious entertaining time.