Portland Museum of Art
Rich in history and culture, you will discover three centuries of art and architecture at the Portland Museum of Art. Enjoy a beautiful display of intricate buildings, vibrant artwork and rich architecture. With more than seventeen thousand objects, the Portland Museum of Art is the biggest museum in the state of Maine and is a vital historical resource for all to visit. Explore an ever-changing world of fine arts, exhibitions, educational performances, lectures, family festivals, art classes, musicals performances, and much more when you visit the spell-binding Portland Museum of Art.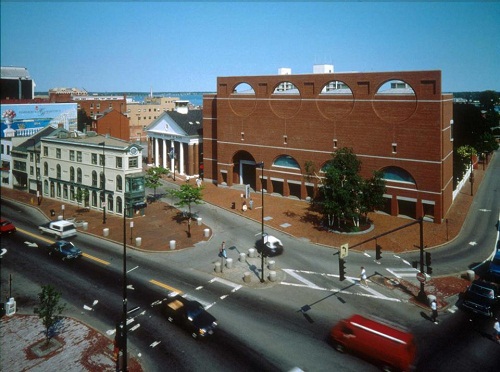 How about dinner and a movie? Visit the museum Café and get a ticket to watch some of the best Exchange Street, foreign, classical, and art films in the state! The museum features the following films:
• OSS 117: Cairo, Nest of Spies- This film is a easygoing and entertaining send-up not only of spy films of that era and the sophisticated secret agent character, but the very idea of Western secret affairs in the Middle East.
• Joffrey: Mavericks of American Dance- Together, Joffrey and Arpino transformed the idea of dance with a bold new perspective and edgy ballet moves that changed the conventional ballet into an aggressive tour to America's White House at Jacqueline Kennedy's invitation, on to Russia for a month-long tour during the height of the Cold War, and beyond.
• Gerhard Richter Painting- This thrilling recording of an energetic process of artistic creation and personal destruction turns Belz's life into a work of art in itself.
Explore art on a personal level with adult workshops in painting, sculpture, design, and architecture. Allow children to learn, grow, and explore with hands-on art making, activities, and watercolor classes. Artists can create masterpieces, but how did they discover that? Through exploration and creativity in a hands-on experience, children and adults alike discover the artist inside them.
Featuring works by artists such as Winslow Homer, Marsden Hartley, John Marin, Louise Nevelson, and Andrew Wyeth, the Portland Museum of Art mesmerizes you with beauty and color. Come enjoy a day filled with color, magic, activities, and fun. Or, come hungry and eat dinner and watch a movie. Whether you want to travel the three building combining three centuries of art, or take a lesson in creativity, you will find just the experience you are looking for. To find out more about special events, lessons, tickets, and schedules you can visit the Portland Museum of Art website at www.portlandmuseum.org/.