Posts tagged "popham beach portland maine"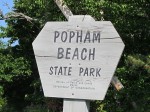 Maine is known for having some of the best beaches in the U.S. While you have many to choose from in the Portland area, about an hour north of Portland is a beach that suits all ages. Popham Beach State Park is the perfect destination for singles, couples, and families.
Check the website (www.maine.gov/doc/parks/parksinfo/popham/pophambeach.shtml) before visiting. When the tide is high in peak hours, beach space is limited. You're better waiting until the tide is going out to ensure you have space to spread towels and blankets on the beach.
Popham Beach Details