Merrill Auditorium Portland Maine
Portland, Maine is home to the beautiful Merrill Auditorium which is an intricate display of live performance, acting, and drama. The Merrill Auditorium seats two-thousand and is an arts facility located in the Arts District of downtown Portland, Maine. Originally built in 1912 to replace two former halls that were both destroyed by fire, the Merrill Auditorium is a classic example of the colonial style; with boasting porticos and wide columns, a deep court and gigantic wings.
Many famous performers have taken stage at this historical monument throughout its long history such as Sergei Rachmaninoff, Vladimir Horowitz, La Scala Grand Opera Company, Jessye Norman, Marilyn Horne, Alvin Ailey, Itzhak Perlman, Van Cliburn, John Philip Sousa, George Gershwin, and Ray Charles.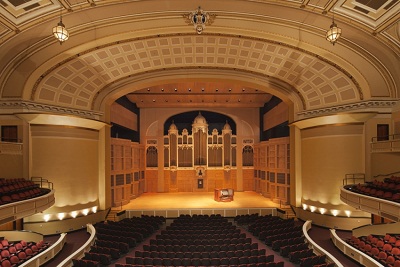 The Merrill Auditorium has recently been restored through the efforts of the City of Portland, PCA Great Performances, The Portland Symphony Orchestra, various citizens wanting to preserve history, and the corporate and philanthropic communities. Improved with acoustics, sightlines, and stage facilities, the Merrill Auditorium is better than ever! Since the renovation, the Merrill Auditorium has been named as one of New England's finest performing arts centers.
Up and running with new and improved features, the nationally recognized Portland Symphony Orchestra plays for a complete season including the holiday season. Organists are welcomed from all over the world during the summer concert series. You can experience internationally and nationally known performances throughout the year in the biggest theatre in Maine.
Some of the classic performances include the following:
• Magic of Christmas
• Yo Yo Ma
• Miss Saigon
• Rent
Some featured events that are taking place this year include the following:
• Classical Night Fever
• The Best of Broadway 2012
• Joe Bonamassa
Merrill Auditorium has also hosted various legendary artists such as Lyle Lovett, Godsmack, Cake, Gov't Mule, David Crosby, Graham Nash, Ani DiFranco, Clint Black, Jerry Seinfeld, BB King, Willie Nelson, Bonnie Raitt, and Jackson Browne. Merrill Auditorium is also used for graduations, cultural dance performances, benefits, and lectures. Serving the community, the region, and the state, the Merrill Auditorium is a fantastic place for limitless entertainment and fun.
So, be sure to book your tickets early online or visit the box office at Merrill Auditorium to get the best seats. To get the best seating and ensure yourself a ticket, you can contact the box office for assistance at 207-842-0800 (M-Sa, noon to 6pm), or book online.