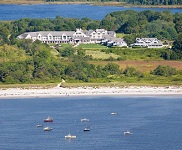 With all the magnificent things to do and see in Portland, Maine, you are sure to need a luxurious place to sleep. The Inn by the Sea is located just fifteen minutes from the vivacious city of Portland, Maine with an entire acre of white sandy beaches and sparkling aqua blue waters. Voted as the world's best hotel in 2011, by the Travel Magazine, the Inn by the sea offers you a luxurious stay of spacious quest rooms, elegant suites, or cozy fully furniture cottages making it the perfect attraction in all of Maine. Whether for couples or the whole family, this is the resort to stay at.
Portland is the largest city in Maine and houses some of the country's most captivating attractions. With a rich diversity and rich history, the Portland area attracts many visitors. For those who want to explore the sandy beaches and enjoy a relaxing vacation, Portland Harbor are the main attractions while those who thrive on a bustling city of culture and arts, downtown Portland is the place to be. Whether you are traveling for fun, business, or leisure, you will want to learn about the rich history and culture of Portland, Maine so come visit a few of our entrancing attractions in this historic city.
Wadsworth-Longfellow House
Portland, Maine is home to the beautiful Merrill Auditorium which is an intricate display of live performance, acting, and drama. The Merrill Auditorium seats two-thousand and is an arts facility located in the Arts District of downtown Portland, Maine. Originally built in 1912 to replace two former halls that were both destroyed by fire, the Merrill Auditorium is a classic example of the colonial style; with boasting porticos and wide columns, a deep court and gigantic wings.
Many famous performers have taken stage at this historical monument throughout its long history such as Sergei Rachmaninoff, Vladimir Horowitz, La Scala Grand Opera Company, Jessye Norman, Marilyn Horne, Alvin Ailey, Itzhak Perlman, Van Cliburn, John Philip Sousa, George Gershwin, and Ray Charles.